AdBTC Review
AdBTC is one of the oldest Bitcoin earning websites. As is well known, this site has been making steady payments to its members for many years. As a result, it has now gained great confidence and is one of the most popular bitcoin PTC sites at the moment. Currently, AdBTC pays for ad views much more than most other sites in this category. 
How to earn Bitcoins on AdBTC site
In order to make Bitcoins on this site, you don't need to have any special skills. So, there are different easy ways to earn Bitcoin: Surf Ads section, Active Window Surfing, Autosurfing, Video ads, Shortlinks.
Additionally, this site offers Referral Market, where you can buy referrals from other members or sell them to others. Also, on the "Referral Market" page you can review AdBTC referral status, like their registration date, last seen, total earned, today earned, spent on advertising, balance, and price. So, if you buy a referral, you will receive the same amount of commission as from your direct referrals for their activity.
Also, you can sell your referrals and immediately earn a decent amount of Bitcoins. For example, the more active your referral is, the more expensive you will be able to sell him.
Advertising on AdBTC site
Advertising on an AdBTC website can bring a lot of unique traffic to the site you are promoting. So, you can place your ad in several places: Surf Ads, Active Window Surfing, Autosurfing, Video ads. The useful thing here is that your promotional link opens in a new browser tab. This is a very good option for links that do not open in the iFrame, like Facebook posts or Youtube videos. The minimum cost per impression is only 4 Satoshi.
For members, coming to the AdBTC website through your referral link, you will earn Bitcoins directly to your account. You will receive a 10% commission on your referral earnings from surfing ads, Video ads, Shortlinks. Also, you will earn a 5% commission from your referral spendings if they buy advertising. Additionally, you can review AdBTC referral activity in the "Referral System" section.
Here are visible Proofs of Payments received by me in several years: in 2018, as well as in 2020-2021. So, it really proves that this site pays its members in bitcoin for many years.
Payment Proof 2018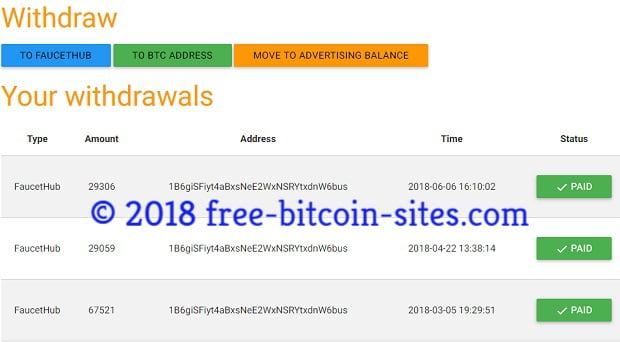 Payment Proof 2020 – 2021
Note:
Payment Proofs with that Bitcoin Wallet Address shown in the pictures belong exclusively to the free-bitcoin-sites.com. However, these images were visible uploaded to other sites. Please do not use any of these Payment Proofs on your sites as your own. They are protected by copyright and it is strictly forbidden to do it.
Since the Minimum Payout on the AdBTC website you can collect quickly enough, it should not be difficult for you to provide your own Proof of Payment. Thank you!
Currently, the minimum Payout is 0.0005 BTC to your direct Bitcoin address. Actually, the withdrawal will be processed in 3 business days. However, if you want to withdrawal your earned bitcoins faster, you can use other bitcoin withdrawal methods. So, you can choose from FaucetPay or ExpressCrypto. The Minimum Payout to these Micro Wallets is only 3000 Satoshis.

Join AdBTC and start earning Bitcoins Now: