ClickFight Review
ClickFight is a great bitcoin-related multiplayer game where you can earn free bitcoins while playing. Fight real enemies in the arena and win Credits, XP and Satoshi. Also, you can fight together against a strong boss or steal it from your enemies.
Upgrade your skills for credits and defeat your enemies easier
Earn free Satoshi, Credits, Ammo, and Medipacks in the Daily Challenge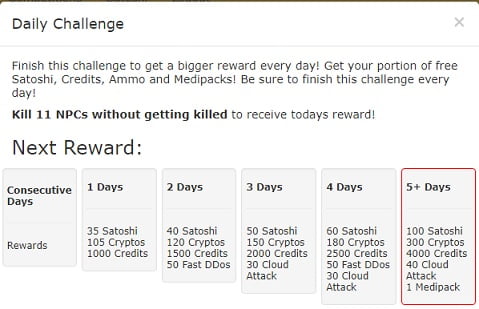 Earn big rewards in weekly competitions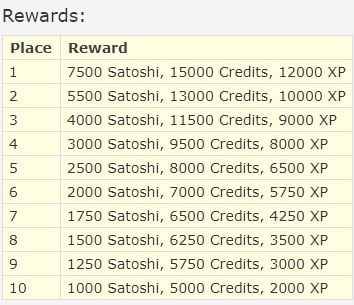 Arena
The main part is the arena. Access it by clicking the button "Join the arena" at the top of the page. Here you can find up to 20 NPCs and other players of course. Fight the enemies by clicking on their target. To attack them, press "start attack" at the bottom. When his life is gone you will get some reward.
You can only attack other players that are 7 levels below your level. Therefore, high-level players cannot attack players in low arena levels.
Competitions
In a competition, you can fight against other players to win rewards. Try to collect the most points. If you get killed during the competition, you may loose earned points. You earn Bitcoins by playing. Therefore, find exploits and kill other players to earn BTC. But you will earn the most Bitcoins for winning competitions.
Game Currencies
Credits are quite easy to get, that's why is the currency for the start. Cryptos are harder to get and you'll get much better items with Cryptos. So save those up and become the strongest. The satoshi you earn are only for your payout.
Referral Program
Invite other players to ClickFight and earn a 10% commission from your downline earnings. You can review ClickFight referral activity on the "Referral System" page.
Payment Proof
Withdrawal
You can choose from 2 withdrawal methods:
1. Minimum 10 Satoshi to ExpressCrypto.io.
2. Minimum 40,000 Satoshi to your bitcoin wallet.
Join ClickFight and start earning Free Bitcoins Now: