Take a glance at the essential features of white label crypto exchange software that ensures the success of your cryptocurrency exchange platform.
Cryptocurrency exchange software is a ready-made platform that helps to launch a cryptocurrency exchange business. The software is pre-built with essential features and can be easily customized to meet specific business requirements. This technologically advanced solution provides a cost-effective and time-efficient alternative to developing an exchange from scratch.
This post will outline the essential features of white label crypto exchange software that can help businesses to establish a successful platform.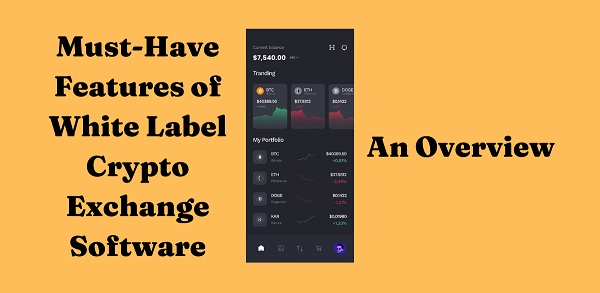 1. Customizable Branding and Design Options
White label crypto exchange software development should offer customizable branding options, allowing businesses to tailor the platform to their specific brand and design requirements. This includes adding a custom logo, color scheme, and overall look and feel of the platform.
Custom branding can help businesses establish a unique identity, differentiate themselves from competitors, and improve user experience. A platform that offers a wide range of customization options enables businesses to create a truly unique platform that reflects their brand. 
2. Advanced Security Measures
Security is a crucial aspect of any cryptocurrency exchange platform, and a white label exchange software must provide advanced security measures to protect both users and the platform. So, it must include two-factor authentication (2FA), encrypted user information, funds storage, regular security audits, and a secure transaction process.
Also, the platform should have robust disaster recovery procedures to ensure that it can quickly recover from any security breaches or system failures. A platform that prioritizes security will protect users' assets, and build customer trust and confidence. 
Crypto exchange software should have a robust trading engine to ensure efficient and accurate processing of trades and transactions. The trading engine should be able to handle high volumes of trades, execute orders quickly, and provide real-time market data and information.
Such a platform that offers advanced trading tools, such as order types, trading algorithms, and market analysis, can help users make informed investment decisions and improve their trading outcomes.
A robust trading engine is an essential feature of white label crypto exchange and can help businesses differentiate themselves from competitors and establish a competitive advantage.
4. Integration With Multiple Payment Methods

 
During white label crypto exchange development, ensure a solid integration with multiple payment methods to provide users with greater flexibility and convenience. So, include support for various fiat currencies, such as USD, EUR, and GBP.  As well as popular payment options, such as credit cards, debit cards, and bank transfers.
The ability to support multiple payment methods allows businesses to cater to a broader customer base and improve user experience.
A platform that integrates with various payment methods can help companies to expand their reach, increase customer satisfaction and drive growth. 
5. Support For Multiple Cryptocurrencies

 
A white label crypto exchange software should support multiple cryptocurrencies, allowing businesses to offer their users a diverse range of trading options. This includes significant cryptocurrencies like Bitcoin and Ethereum, as well as smaller, up-and-coming coins and tokens.
Offering support for multiple cryptocurrencies can help businesses attract a broader customer base and increase liquidity, which is essential for a successful exchange.
6. User-friendly Interface

 
Crypto exchange software should have a user-friendly interface that allows users to navigate and trade on the platform smoothly. This includes intuitive navigation, clear and concise information, and a simple trading process.
A platform with a user-friendly interface can improve user experience and encourage greater adoption and usage of the platform. Such a platform that is easy to use can help businesses attract and retain customers, increase engagement, and drive growth.
API integration is an essential feature of white label crypto exchange software as it allows businesses to connect the platform with external systems and applications. This can include integration with wallets, trading bots, and other tools and services.
The API integration can improve the functionality and performance of the platform and allow businesses to offer new and innovative services to their users. A platform that integrates with a range of APIs can help companies to increase efficiency, automate processes, and drive growth. 
8. Scalability and High Performance

 
Crypto exchange software should be scalable and offer high performance to handle increasing user demand and trading volume. This includes handling large numbers of trades, users, and transactions without significantly impacting performance.
A scalable platform with high performance can help businesses accommodate growth and increase service demand. Such a reliable and fast platform can help enterprises to provide a better user experience, increase customer satisfaction, and drive growth.
That summed up everything about this post regarding the essential features of white label crypto exchange software. Such software can provide businesses with a cost-effective, time-efficient solution for launching a successful cryptocurrency exchange platform.
By integrating all these essential features of white label crypto exchange, companies can establish a platform that meets their specific requirements and offers a great user experience. This way, they can attract and retain customers and drive growth. So, get in touch with a reliable white label cryptocurrency exchange development company and build a platform with all such features.